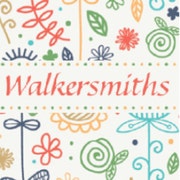 I am a huge fan of using my sewing machine and find any excuse I can to sew. Not working in full-time employment has allowed me to start designing and making fabric items.

Walkersmiths Handmade Crafts was started in November 2015 and I am gradually adding items as I make them.
My most popular items, the Yoga/Pilates Mat Bags, are made from a canvas material in various designs and are suitable for the thin and the very thick mats (15mm thick). 
All bags are lined with either a cream  or contrasting colour lining, have a zipped 
pocket, a carrying strap and a rope drawstring closure.